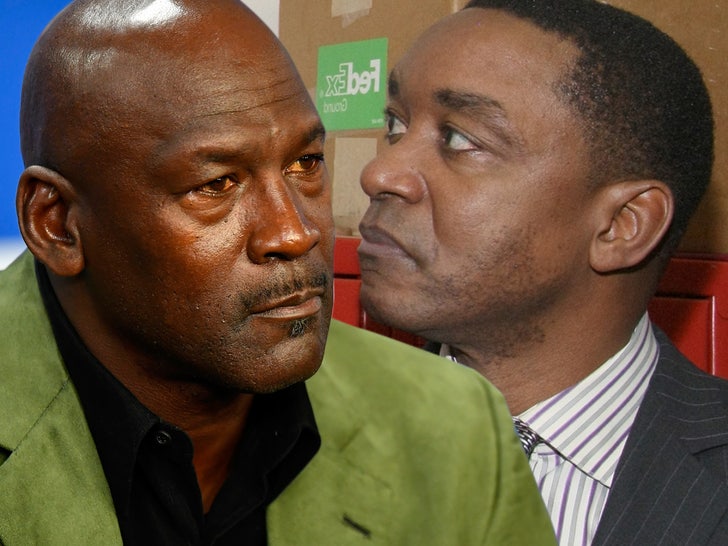 Breaking Files
Michael Jordan is contradicting Michael Jordan … and it's all on tape.
Be aware when MJ talked about on "The Final Dance" that he didn't contain any explicit involvement in blocking off Isiah Thomas from being on the legendary dream crew?
Yeah, nicely … now audio has surfaced from an veteran interview by which MJ says straight-up he advised 1992 Olympics replacement committee member Rod Thorn he is OUT if Thomas makes the crew.
Or no longer it's all on Jack McCallum's 'The Dream Personnel Tapes' — here is the transcription.
"Rod Thorn called me. I talked about, 'Rod, I won't play if Isiah Thomas is on the crew.' He assured me. He talked about, ' what? Chuck [Chuck Daly] doesn't need Isiah. So, Isiah is no longer going to be a part of the crew.'"
So, which Michael Jordan attain you watched?!
For certain, there used to be SERIOUS defective blood between MJ and Thomas after the Pistons walked off the bottom without shaking hands with the Chicago Bulls within the '91 NBA Playoffs.
For his part, Thomas admits he is level-headed "in my concept injure" he used to be no longer asked to be a bit of that legendary '92 dream crew — and help in April, he talked about it's all because of he didn't shake Michael Jordan's hand.
Isaiah Thomas: "If I'm no longer apart of the Dream Personnel consequently of a lapse in emotion in phrases of no longer shaking a persons' hand, if that is the reason I didn't construct the Dream Personnel, then I'm more disenchanted as of late than I was help then after I wasn't chosen." pic.twitter.com/5QQk3kmX0g

— Arash Markazi (@ArashMarkazi) April 27, 2020
@ArashMarkazi
"If I'm no longer apart of the dream crew because of a lapse in emotion in phrases of no longer shaking a persons' hand … if that is the reason I didn't construct the Dream Personnel, then I'm more disenchanted as of late than I was help then after I wasn't chosen."